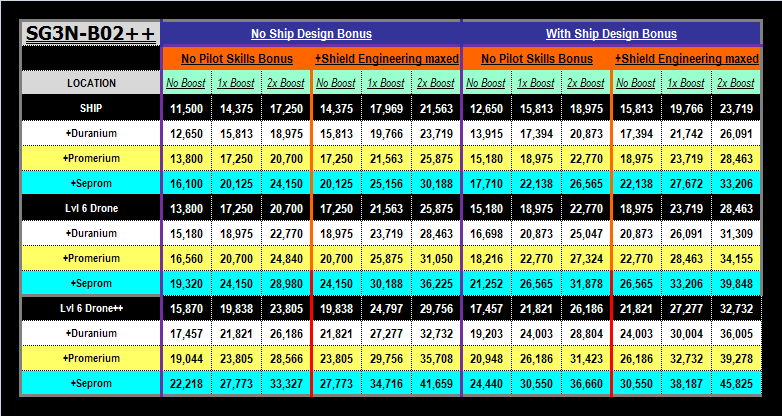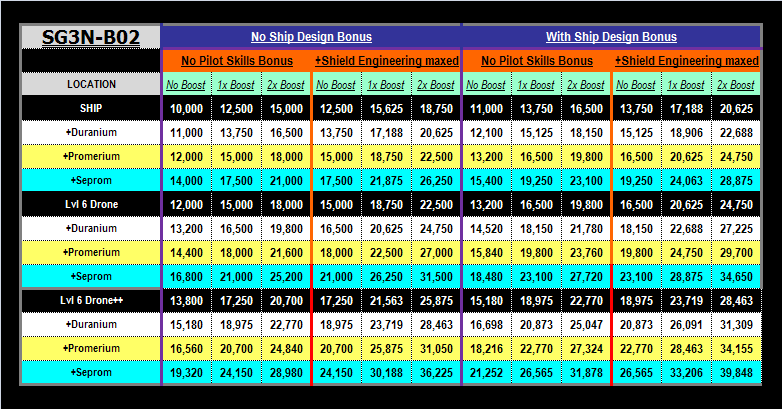 INFORMATION CORRECT AS AT 10th DECEMBER, 2011
==========================
Shields have been listed on an individual basis, to allow players to calculate their shieldpower based on their own configurations.
TO CALCULATE SHIELDPOWER:
++ Locate the power value for the shield according to it's type, equipped location, and any bonuses which apply.
++ Total the power values of all shields equipped.
++ Leonov pilots will need to double the value of any shields in the "Ship" location before calculating. (This bonus only applies when you are in your own company's maps X-1, X-2, X-3, X-4).
==========================
NOTES:
* All figures use standard rounding. The difference from raw data is negligible.
* Boosters have been calculated for a solo ship only. Additional shared boosters will give higher shieldpower values.
* Shields/drones marked with "++" indicate that they are fully upgraded (Level 16).
* Drone Formations have not been included, as they are modifications which can be altered at will during gameplay.
==========================
MAXIMUM SHIELDPOWER TOTALS
Goliath
Shields on ship (15) = 498,090
Shields on drones (20) = 916,500
Total Shieldpower = 1,414,590
_____________________________
Vengeance
Shields on ship (10) = 332,060
Shields on drones (20) = 916,500
Total Shieldpower = 1,248,560
_____________________________
Leonov
Shields on ship (6) // x2 bonus (12) = 181,128 // 362,256
Shields on drones (20) = 833,180
Total Shieldpower = 1,014,308
(with bonus)
Total Shieldpower = 1,195,436

Ancient

Master of Words





Posts

: 1418


Join date

: 2010-06-04


Age

: 70


Location

: Brisbane, Australia





Similar topics
---
Permissions in this forum:
You
cannot
reply to topics in this forum